As a strong advocate of continuing education, Dr. George Tsangaroulis' training and expertise extend beyond preventative, cosmetic, and restorative dental care, enabling him to skillfully perform several advanced dentistry services in both a safe and effective manner. From treating sleep apnea and relieving TMJ pain to calming modest to extreme dental anxieties with state-of-the-art sedation techniques, he provides personalized care that addresses the unique needs of each individual, resulting in an optimal treatment experience and exceptional outcome.
We invite you to take a look at the information below to learn more about our advanced dentistry options. If you have any questions, or if you are interested in scheduling an appointment with Dr. Tsangaroulis, please feel free to reach out online or by phone.
Perfection is achieved, not when there is nothing more to add, but when there is nothing left to take away. – Antoine de Saint Exupery
Sleep Apnea
Sleep apnea is a serious, potentially life-threatening condition that tends to go undiagnosed in many individuals. Characterized by loud, heavy snoring that's interrupted by pauses in breathing throughout the night, this condition can lead to extreme fatigue, anxiety, depression, cardiovascular disease, and even premature death. Fortunately, sleep apnea is highly treatable—often with something as simple as non-invasive oral appliance therapy from Dr. Tsangaroulis. If you think you or a loved one may be suffering from this harmful condition, we can help.
TMJ/TMD Treatment
Temporomandibular joint (TMJ) dysfunction—also known as TMD—can be the cause of numerous issues that negatively affect day-to-day life, including jaw clicking or popping, chronic headaches, neck and shoulder pain, difficulty chewing, and more. Fortunately, this condition can often be easily and effectively treated by Dr. Tsangaroulis with the use of a customized night guard and/or other non-invasive means, helping to relieve pain and restore a better quality of life.
Dental Technology
The utilization of top-of-the-line dental equipment is critical to delivering excellent care. Below, we've highlighted several of the state-of-the-art technologies that help to distinguish Greenwich Cosmetic & Family Dentistry as a leading practice in Connecticut and the greater NYC area.
CEREC® Same-Day Crowns, Veneers, & Restorations

CEREC is a revolutionary, office-based system that enables Dr. Tsangaroulis to plan, craft, and place porcelain crowns, dental veneers, inlays, and/or onlays during a single visit. After capturing a detailed digital impression via the technology's advanced scanner, Dr. Tsangaroulis can use CEREC computer software to custom-design each restoration with the utmost precision. Once the design is complete, the system meticulously mills the crown(s), veneer(s), inlay(s), and/or onlay(s) right here at our practice in a matter of minutes, allowing Dr. Tsangaroulis to secure the finished restoration(s) for a same-day smile enhancement.
VELscope® Oral Cancer Screening

VELscope is an innovative, non-invasive oral cancer detection device that emits a safe blue light into the oral cavity to provide better visibility of soft tissues. It is used as an adjunct to intraoral and extraoral examinations, helping Dr. Tsangaroulis to identify any abnormal tissues as early as possible for prompt treatment of this potentially deadly disease.
Cone Beam Computed Tomography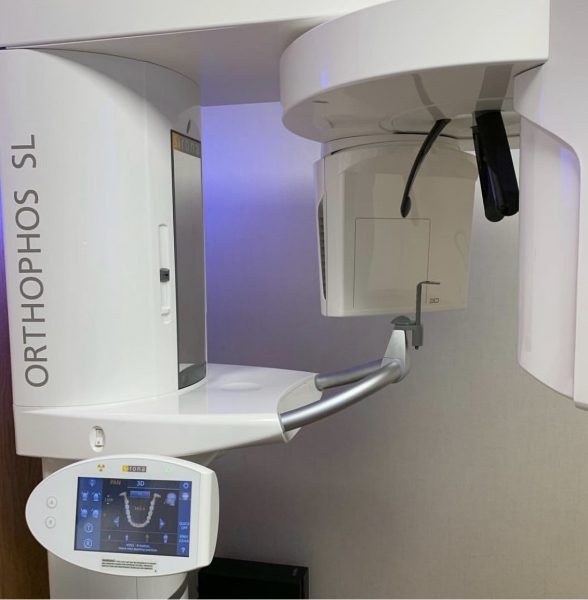 Orthophos SL 3D is a Cone Beam Computed Tomography (CBCT) system that allows Dr. Tsangaroulis to capture more detail inside the mouth in order to detect and diagnose pathology that may otherwise go unnoticed with regular 2D x-rays. Among a number of uses, this technology can be employed to evaluate nerves, bones, joints (including TMJ), and pre-plan for the placement of dental implants.
Dental Lasers
With industry-leading dental lasers manufactured by Fontana and Solea, Dr. Tsangaroulis is able to treat a variety of dental concerns and promote optimal oral wellness through minimally invasive means. Depending on your unique needs, laser dentistry can be used for bacterial decontamination, calculus removal, teeth whitening, gum disease therapy, ulcer treatment, pain relief, and more.
Digital Radiography
Unlike traditional x-ray technology, the KaVo NOMAD™ Pro 2 handheld x-ray system minimizes radiation exposure to such a degree that Dr. Tsangaroulis, Silvia (our dental assistant), or Tracy (our hygienist) can perform all x-rays without having to leave the room. Doing so enables them to capture the most precise angles possible for optimal intraoral viewing.
DEXIS CariVu™ Cavity Detection
DEXIS CariVu is an advanced system that allows Dr. Tsangaroulis to identify caries (cavities) and cracks in teeth with near-infrared light energy, as opposed to taking an x-ray. Along with the benefit of no radiation transmission—making it a great option for children, women who are pregnant, and others who should not receive traditional x-rays—CariVu is capable of detecting issues in their earliest stages, typically allowing for more prompt, less invasive treatment.
BioJVA (Joint Vibration Analysis)
BioJVA™ is a quick (approximately 10 seconds), non-invasive diagnostic technique for TMJ disorder (TMD) that's designed to measure function of the temporomandibular joint through the detection of small vibrations. When wearing the BioJVA™ device—which is similar in design to headphones—special sensors identify even the slightest friction in the joint, enabling Dr. Tsangaroulis to review vibration patterns and diagnose the severity of TMD. Using this information, he can then develop an appropriate TMJ treatment plan to effectively alleviate pain and other symptoms for improved comfort and function.
Intraoral Camera with Chairside Monitor
With our intraoral camera, you can see exactly what Dr. Tsangaroulis is seeing on a chairside computer screen. It is a pen-sized device that allows Dr. Tsangaroulis to screen for potential problems more thoroughly, making it possible for you to view and understand your dental needs.
Digital Radiography
Digital x-rays create one-tenth of the amount of radiation exposure and produce immediate displays. This technology provides image enhancements that help in educating you as the patient, as well as detecting decay while it is still small. It can also result in greater comfort and shorter treatment times.
Anutra Local Anesthetic Delivery System
Backed by novel science, the Anutra platform—which consists of a special Dispenser, Cassette, and Syringe—makes administering local anesthesia considerably more comfortable and tolerable for patients, ultimately enhancing the efficacy of the anesthetic for an improved treatment experience.
Electric, Quieter Drill
The sound of dental drilling is one of the top causes of anxiety for people visiting the dentist. In the event drilling is necessary, Dr. Tsangaroulis utilizes a new-age electric drill that is significantly quieter than the air-driven drills still used by many dentists today. Along with the noise reduction that can promote a calmer treatment experience, electric drills offer the benefit of improved speed, efficiency, and smoothness of tooth preparation.
Contact Our Practice
For additional information about advanced dental care provided by Dr. Tsangaroulis, or if you are interested in treatment and would like to schedule an appointment, please contact Greenwich Cosmetic & Family Dentistry.