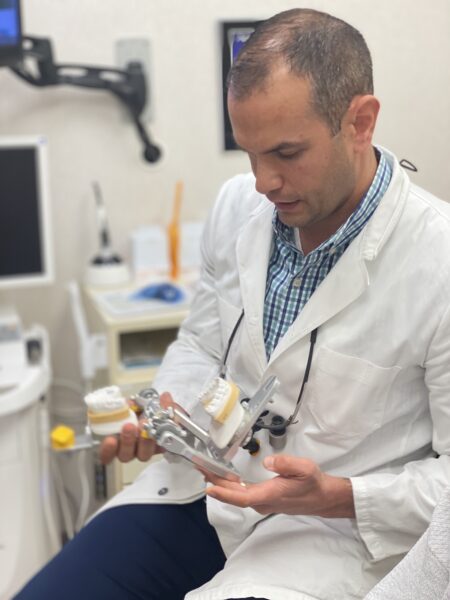 Damaged or missing teeth not only affect the appearance of your smile, they can also be detrimental to your overall oral health. As part of our complete span of dental services, Dr. George Tsangaroulis offers several restorative dentistry treatments designed to address a variety of concerns related to the structure and integrity of the teeth. Whether you have a chip, crack, decay, or are missing one or multiple teeth, we have the advanced technology and materials necessary to employ the most conservative approach possible for an optimal functional and cosmetic outcome—all while prioritizing safety, comfort, and communication.
To learn about our restorative dentistry procedures, please take a look at the descriptions provided below, or simply contact our practice to schedule an appointment with our dentist in Greenwich. We would be happy to help you receive the dental care you need for the smile you deserve!
Dental Implants
Dental implants are considered the most natural-looking and functioning tooth replacement option available today. Consisting of a titanium post inserted into the jawbone, dental implants mimic an actual tooth root and provide exceptional support for a custom-made crown that is secured overtop for complete restoration of the missing or damaged tooth.
CEREC® Same-Day Crowns & Restorations
We understand your time is valuable. That's why we've invested in CEREC digital technology that allows for a faster experience when you need a porcelain crown (cap) or large replacement filling, otherwise known as an inlay or onlay. CEREC is a revolutionary way to restore teeth damaged by decay, fractures or cracks, old fillings, or root canal therapy in a single visit—rather than taking a sticky mold, sending it out to a dental laboratory, wearing a temporary crown, and returning for a second appointment.
During the course of one visit, we can prepare your damaged tooth, create an optical impression, and use CEREC computer software technology to digitally design and mill a precise restoration, which is then permanently bonded to your tooth for full restoration of its function and stability.
In short, key benefits of CEREC restorations include:
Greater Convenience – Only a single office visit is required to complete the restoration
Minimally Invasive Treatment – More natural tooth structure is conserved
High-Quality Materials – The porcelain material is tooth-colored and incredibly durable
Enhanced Precision – 3D imaging allows for improved design and fabrication of restorations
Inlays and Onlays
CEREC inlays and onlays are alternative restorations to crowns, which enable the doctor to conserve natural tooth structure. They replace extensive amalgam (metal) or composite fillings with tooth decay or structural damage, to create a smooth, tooth-colored replacement of natural tooth material again in just one visit. They are superior to amalgam or composite fillings because of their enhanced strength, durability, and esthetics. With enamel-like material, they look and feel like your real teeth, and are longer lasting.
Full Mouth Reconstruction
Full mouth reconstruction—which is also known as full mouth rehabilitation or full mouth restoration—refers to a personalized combination of dental procedures employed to comprehensively restore oral wellness, function, and aesthetics. This may include dental implants, implant-supported dentures, gum disease treatment, tooth extraction, porcelain crowns, and/or various other restorative procedures.
To conduct a full mouth reconstruction, Dr. Tsangaroulis will first perform an extensive exam with state-of-the-art digital screening technology, allowing him to identify all dental concerns—both seen and unseen to the naked eye—with optimal precision. Next, he will utilize advanced software to customize a treatment plan based on your unique needs and goals, enabling you to view 3D models of how your final results will look. Using these digital simulations, he will also create a physical diagnostic wax-up that not only provides further visualization of your new smile, but also serves as a blueprint for the creation of your final restorations.
Once the exact treatment plan has been agreed upon, Dr. Tsangaroulis will send impressions and other case-specific information to a dental lab to have a custom PreNew® PreView mold created. When the mold is ready, you will be able to literally try on your new smile to get the most accurate sense of how you will ultimately look. If you are pleased and ready to proceed, Dr. Tsangaroulis will move forward with the creation and eventual placement of your restorations.
The entire full mouth reconstruction process is typically completed over the course of multiple visits, with the exact number depending on the specific procedures employed. Throughout this time, Dr. Tsangaroulis and our team will do everything in our power to ensure you are comfortable, fully informed, and completely satisfied. Once all is said and done, you can expect a beautiful, healthy smile that looks natural and functions properly with long-lasting results.
Tooth Wear
Contact Our Office
For more information about any of our restorative dentistry options, or if you are interested in treatment and wish to schedule an appointment with Dr. Tsangaroulis, please contact Greenwich Cosmetic & Family Dentistry.