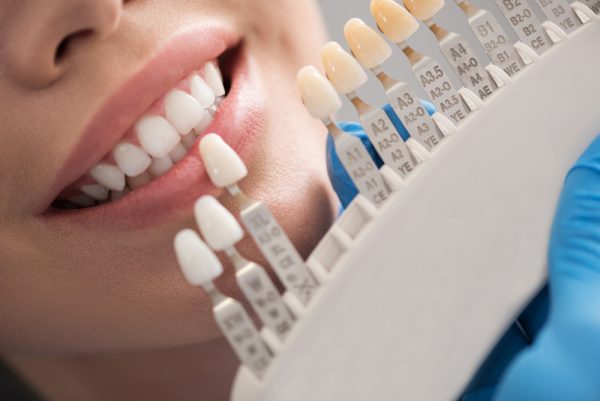 Porcelain veneers are the most aesthetic and durable way to transform your smile. They are thin, porcelain laminates that are applied directly over the outer surfaces of the teeth to conceal a variety of aesthetic concerns, including chips, gaps, misalignments, and discoloration. Additionally, they can be used to alter the size, width, and overall shape of teeth. For example, short or narrow teeth can be made longer or wider, and the different contours, corners, and edges of the veneers can be rounded or made more rectangular to achieve the desired smile enhancement.
At our practice, Greenwich cosmetic dentist George Tsangaroulis, DDS is highly skilled and experienced in the design and placement of porcelain veneers. While there are many talented cosmetic dentists in Lower Connecticut and the greater New York City area to choose from, what sets Dr. Tsangaroulis apart are his unique methods and approach of combining smile design and beauty with biology and function—hence the term "Functionally Driven Facial Aesthetic Smile Design." His goal is to not only deliver an exceptionally beautiful and natural-looking outcome with porcelain veneers, but also to achieve results that function optimally and last a very long time.
Dr. Tsangaroulis considers himself a smile designer, engineer, and an artist. According to him, the most difficult and critical aspect of the smile design process is the planning. A smile should never be perfect—it should be perfectly imperfect. As a result, no two people will have the same smile. Whether treatment involves addressing a single tooth or enhancing all visible teeth, Dr. Tsangaroulis customizes each and every veneer to fit the individual. Additionally, he works only with elite, greatly talented ceramic technicians who have an excellent understanding of smile design, and he always uses a special proprietary blend of translucent porcelain that closely mimics natural teeth for exceptional results.
To learn more about porcelain veneers, we invite you to read the informative sections provided on this page, or simply contact Greenwich Cosmetic & Family Dentistry today to schedule an appointment with Dr. Tsangaroulis.
What Are the Benefits of Porcelain Veneers?
For individuals seeking to resolve aesthetic-related tooth concerns, the benefits of porcelain veneers are many:
They can cover cracks, chips, and/or breaks
They can close minor gaps and spaces between teeth
They can address crooked teeth and/or minor misalignments—a solution sometimes referred to as "instant orthodontics"
They can conceal minor to severe yellowing or discoloration—including natural stains acquired during childhood, tetracycline staining and fluorosis, and enamel demineralization which can often occur after wearing orthodontic braces
They can increase the length and/or width of teeth for improved proportions and/or uniformity
They can restore teeth to their original size and shape after years of wear and tear
They are extremely durable and more resistant to chipping than dental bonding
They are highly unsusceptible to staining—significantly more so than natural tooth enamel
Gum tissues tolerate porcelain well because of its smooth surface and "feather-edge" margins contacting enamel
They can last for many years—often decades—with proper care and maintenance
They can significantly improve one's self-confidence and esteem
They can improve jaw function, bite mechanics, and comfort
Why Choose Dr. Tsangaroulis for Porcelain Veneers?
Many people in Lower Connecticut and the greater NYC area have the perception that the best cosmetic dentistry can only be found in New York City. Fortunately, there is no need to sit in traffic for hours or endure the elements while waiting for a train to Manhattan to see a top cosmetic dentist—there is one right here in your backyard!
Dr. Tsangaroulis is renowned for his beautiful smile transformations using porcelain veneers, having trained under some of the field's leading practitioners, including Dr. John R. Calamia—the dentist who co-developed and patented the concept of Etched Porcelain Laminate Veneer Technology, and whose research led to the placement of the earliest recorded porcelain veneer in 1982. As a student at New York University College of Dentistry, where Dr. Calamia is now the Director of Aesthetic Dentistry, Dr. Tsangaroulis was chosen by Dr. Calamia himself as one of a select few to participate in a dedicated Honors Program for cosmetic dentistry. At its conclusion, Dr. Tsangaroulis was bestowed an Achievement Award due to his exceptional dedication and skillful artistry with porcelain veneers and other cosmetic dentistry options. Since then, he has continued to train with Dr. Calamia and numerous other nationally and internationally recognized cosmetic dentists as an active member of the esteemed American Academy of Cosmetic Dentistry (AACD).
Dr. Tsangaroulis and his team are a great group of talented professionals. Over the past couple of years, Dr. T has done everything from general dental check ups to much more complex cosmetic processes including invisilign braces, replacement of crowns, bonding on some teeth, and porcelain veneers. My smile looks awesome! AND, importantly, my bite is aligned in a healthy way. Dr. T's practice uses state of the art technology which ensures a level of precision and results that you can't find very much these days!

Julie Peck

October 18, 2018

12345
More Reviews
Dr. Tsangaroulis maintains that success and satisfaction can only be achieved through a collaborative approach that blends a patient's input with the expertise of the cosmetic dentist. For this reason, he listens to his patients' needs and desires, allowing them to be hands-on while encouraging communication and feedback to help create the desired outcome.
In regard to your smile, he will always present multiple options for cosmetic enhancements so you can make an informed, educated decision. In fact, sometimes Dr. Tsangaroulis believes veneers are not necessary at all, coinciding with his principle of practicing "responsible cosmetic dentistry." He always takes a conservative approach, and he may simply recommend Invisalign® and teeth whitening to straighten and brighten the smile (if you are currently pleased with the size and shape of your teeth). In some instances, he might even direct composite bonding instead. Furthermore, while many dentists may suggest multiple veneers to create a more "uniform" appearance, this may not be necessary. With Dr. Tsangaroulis' advanced training, top-level skill, and keen artistic abilities, he can match one or two porcelain veneers precisely to the adjacent teeth by incorporating exact color translucency characteristics that appear completely natural. This can save unnecessary time and expenses, leading to a more efficient and economical treatment without sacrificing the quality of your results.
Ultimately, the care and attention to detail Dr. Tsangaroulis provides for his patients is truly one-of-a-kind, and his passion for cosmetic dentistry and commitment to excellence are unmatched. When you choose him for porcelain veneers, you can have peace of mind knowing:
You will receive care from a cosmetic dentist who has obtained the same caliber of education and training as top dentists in NYC—and who has since remained dedicated to a lifetime of ongoing professional development
You will always see the same dentist at every visit (many dental practices have multiple doctors)
You will receive the most conservative, minimally invasive recommendations and treatment possible
You will be involved in the interactive planning and "test-driving" of your new smile
Your veneers will be crafted at an elite dental laboratory using materials of the highest quality
You will attain a smile transformation that not only looks natural and beautiful, but is designed and engineered to last many decades
To better visualize the type of results you can expect when you choose Dr. Tsangaroulis for porcelain veneers, we encourage you to visit our website's smile gallery, or simply schedule a visit to see more patient cases at our office!
What Is the Porcelain Veneers Process Like?
Dr. Tsangaroulis is a perfectionist—he wants patients to not only be pleased, but truly ecstatic about their new smile. He is extremely meticulous, and he makes the porcelain veneers process seamless and interactive to create an optimal treatment experience.
At the first visit, Dr. Tsangaroulis will listen to and evaluate your aesthetic smile concerns, as well as take photos of your mouth that can be displayed three dimensionally on a chairside monitor. Using advanced software, he can then digitally modify your smile to simulate the type of results that can be achieved with porcelain veneers based on your unique needs and aesthetic desires.
Once you are pleased with your smile simulation, he will utilize his analysis and the 3D digital mockup to create a "diagnostic wax-up" that serves as a physical prototype of the proposed end result. This not only provides another opportunity for you to better visualize and/or adjust the design of your new smile (your input is strongly encouraged!), it acts as a blueprint for the fabrication of your porcelain veneers while limiting the potential for unnecessary tooth preparation due to improved treatment predictability.
When you are happy with the wax-up, Dr. Tsangaroulis will send all impressions and smile design details to a state-of-the-art dental lab to fabricate your permanent porcelain veneers based on his instructions. While your veneers are being made—which takes about two weeks—you will be supplied with customized temporary veneers to wear, providing yet another chance to offer your own input about your smile.
Finally, during the last visit, your permanent veneer(s) will be "tried on" before they are bonded for good. Dr. Tsangaroulis will allow plenty of time for you to look at your veneers in a chairside mirror during this "try on" session, and he even recommends bringing a friend or family member along for a second opinion. Once ready, he will meticulously secure your porcelain veneers in place, revealing your beautiful new smile.
How Long Do Porcelain Veneers Last?
When properly cared for, high-quality porcelain veneers—such as those utilized by Dr. Tsangaroulis—can last many years, often even decades. To help increase their lifespan, Dr. Tsangaroulis will provide thorough instructions for at-home care and maintenance following your treatment, and he utilizes rare special pastes and gels during routine hygiene visits that prevent damage and significantly increase the longevity of veneers.
What Do Porcelain Veneers Cost?
At Greenwich Cosmetic & Family Dentistry, the cost of porcelain veneers typically ranges from $1,000–$4,000 per tooth. When selecting a cosmetic dentist for veneers, it is important to understand that pricing is generally representative of several factors, such as the dentist's training and expertise with veneers, the quality of technology and materials utilized, the caliber of the dental lab, and the overall level of care you can expect from start to finish—and beyond. For this reason, choosing a provider based on a lower cost alone is not advisable.
Dr. Tsangaroulis never wants dental expenses to get in the way of someone achieving their dream smile, which is why we accept numerous payment options, including CareCredit®—a trusted healthcare lender who offers a variety of monthly payment plan options with little to no interest rates. If you are interested in financing for porcelain veneers to help treatment better fit your budget, a member of our team will be happy to assist you in getting started on the quick and easy CareCredit® application process at the time of your visit. Just ask!
Book Your Appointment with Dr. Tsangaroulis
If you have additional questions about porcelain veneers, or if you are considering cosmetic dentistry and wish to find out if this treatment is right for you, please do not hesitate to reach out to us online or by telephone today to book an appointment with Dr. Tsangaroulis.