The most beautiful smiles are also the healthiest ones, which is why Dr. George Tsangaroulis takes a comprehensive approach to cosmetic dentistry that's designed not only to enhance the appearance of the teeth and gums, but also protect—or even improve—oral wellness for an optimal aesthetic and functional outcome. From advanced 3D imaging for smile planning to incredibly durable and natural-looking tooth restorations, he is committed to utilizing the latest, most advanced technologies and techniques available in order to aid in doctor-patient communication, increase treatment comfort, and yield exceptional results. Whether you want a teeth-whitening touch-up or a comprehensive smile design, Dr. Tsangaroulis and our team will take the time to understand your goals and concerns and develop an individualized plan that achieves the smile you've always wanted.
Quality is never an accident. – William A. Foster
For more details about our cosmetic dentistry services and the quality of care you can expect to receive, we encourage you to browse the information below and/or contact us to schedule an appointment.
Smile Design
Our philosophy for smile designs is: "Begin with the end in mind." To put this into practice, Dr. Tsangaroulis uses several state-of-the-art diagnostic and smile planning methods to construct physical and digital models of how your future smile can look, prior to moving forward with treatment. This allows you to work together with Dr. Tsangaroulis to finetune your unique smile design while providing peace of mind that the end result will meet—or possibly even exceed—your expectations. Ultimately, our goal is not only to help you improve the appearance of your teeth and gums, but to achieve a beautiful smile that simultaneously enhances the balance and symmetry of your entire face.
What to Expect at Your First Visit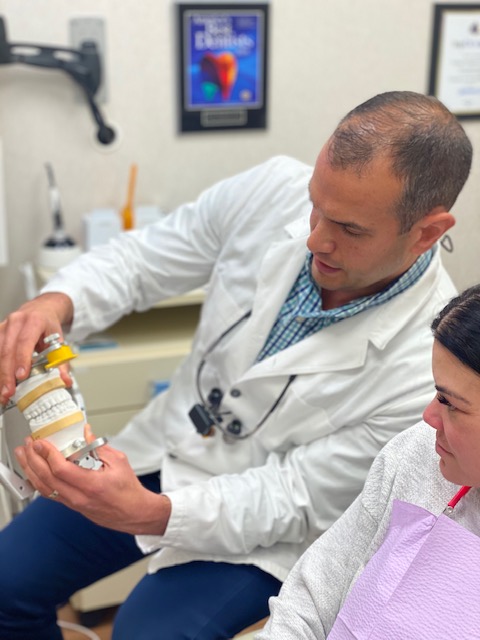 Your initial visit provides the opportunity for you to get to know Dr. Tsangaroulis and our team, explain what specifically concerns you about the appearance of your teeth and/or gums, and gain a comprehensive understanding of how your smile can be transformed based on your unique needs and goals. As a cosmetic dentist devoted to the concept of "complete dentistry," Dr. Tsangaroulis leaves no stone unturned, examining everything from bite alignment and jaw joint function to facial/temporal musculature and, of course, smile aesthetics.
Every smile design begins with a thorough clinical examination, detailed photographs, and custom 3D models, followed by a digital smile analysis and mockup. These are used to help create a "diagnostic wax-up"—or, in other words, a physical prototype—of the end result. In addition to serving as a tool for you to visualize your potential outcome, this wax-up enables you to participate in the design of your new smile, functions as a blueprint for final restorations to make treatment far more predictable, and allows for responsible, minimally invasive care by limiting the amount of unnecessary tooth preparation/reduction.
To further improve treatment planning and customization, Dr. Tsangaroulis also sends impressions and details of your proposed plan to the PreNew® PreView lab in New York City. There, a realistic mockup will be hand-crafted and sent back to our Greenwich dental office for you to try on, allowing you to literally see the way in which your proposed plan can transform your smile.
Throughout the entirety of this initial appointment, we encourage you to ask questions, voice any concerns, and be as interactive as you wish in your smile design. While Dr. Tsangaroulis will provide his professional recommendations for what he feels will achieve the best cosmetic and functional results, the ultimate decision is up to you—down to the size, shape, and color of your teeth.
Once you feel completely comfortable with your treatment plan, our office will move forward with contacting the appropriate dental labs to construct your wax-up and PreNew® PreView mold.
Your Follow-Up Smile Design Visit
At your second smile design visit, you will be able to closely examine the physical wax-up of your new smile, as well as actually try on a "preview" of your new teeth using the PreNew® PreView mold. To do this, Dr. Tsangaroulis will fill the mold with a temporary acrylic compound and apply it to your teeth in a matter of minutes. Wearing your mockup, you will have a better sense of how your smile will look in the future without any drilling, anesthesia, or discomfort.
When you are pleased with the final look and ready to proceed, Dr. Tsangaroulis will use the custom wax-up as a blueprint for treatment. Depending on the procedure(s) included in your plan, your smile enhancement may be completed in a single visit or over the course of multiple appointments.
In the end, you can expect a beautiful, functional, long-lasting smile you are proud to put on display.
Porcelain Veneers
Porcelain veneers are one of the most popular cosmetic dental treatments available. Using thin porcelain shells, teeth can be strengthened and enhanced in a multitude of ways. If you're bothered by chips, gaps, cracks, misalignment, stains, or other concerns, porcelain veneers provide a beautiful, natural-looking solution for one tooth—or your entire smile. Our innovative techniques allow for a bare minimum of tooth reshaping, helping to keep your smile looking and working its best for years to come.
Invisalign®
Correct misalignment, gaps, crowding, and other common orthodontic concerns with a series of clear aligners. Invisalign uses an innovative system to gently and optimally reposition your teeth for a more beautiful smile and better functioning oral structures. Removable, virtually invisible, and more comfortable than traditional metal braces, Invisalign may be able to help you achieve your goals.
Teeth Whitening
Lighten and brighten your teeth using the most advanced techniques available. Dr. Tsangaroulis uses professional teeth whitening methods like ZOOM!® to provide dramatic results that still appear natural. Whether you choose an in-office procedure, take-home trays, or a combination approach, we can help you clear away years of stains and discoloration for a more brilliant smile.
Laser Dentistry
A laser can be used to gently remove unwanted gum tissue and eliminate high gummy smile lines or short-appearing front teeth. This treatment has become popularly known as gum shaping, contouring, reshaping, recontouring, and crown lengthening. Laser treatment is so precise that Dr. Tsangaroulis is capable of changing the overall appearance of the gumline, from tooth to tooth, producing a great smile.
Cosmetic Bonding
Cracks, chips, and small imperfections can be disguised and corrected with cosmetic bonding. Tooth-like material is applied to the area of concern to create a smooth, natural-looking finish. Cosmetic bonding is one of the most affordable and popular ways to address minor concerns, although it is not appropriate for all situations. Our team can help you decide if this or another technique can provide the ideal outcome based on your needs and goals.