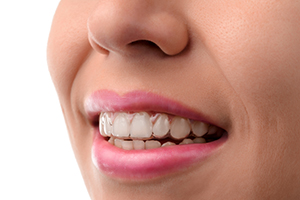 Dr. George Tsangaroulis is a top Invisalign dentist in Greenwich and preferred provider for clear, removable braces. As an Invisalign expert, he has been providing Invisalign and clear braces/orthodontic services for over 10 years. Unlike most dentists who have only recently acquired proficiency to deliver Invisalign , Dr. Tsangaroulis trained extensively in Invisalign treatment and became certified during his education at New York University College of Dentistry. As an active member of the American Academy of Clear Aligners, he continues to complete hundreds of hours of continuing education annually to stay up to date with always evolving enhancements and techniques. Due to his comprehensive knowledge and experience with a wide range of cases, he has been granted a Preferred Provider.
Dr. Tsangaroulis has the unique ability to use a 3D scanning device to capture model images of your teeth, rather than taking uncomfortable gooey impressions. This also allows us to receive an Invisalign outcome simulation much faster than normal. We encourage patients to be interactive with their Invisalign planning by showing them customized before and after digital simulations of their teeth before they even commit to treatment, free of charge! He is extremely meticulous and will not settle for anything other than perfection and the patient's complete satisfaction.

Invisalign is a virtually clear solution to straightening teeth, using a custom-made series of clear, removable aligners created just for you. Invisalign gradually moves your teeth towards healthier gums, a more comfortable bite, and the smile you've always wanted. It is rare that anyone will know you are wearing them unless you tell them. Since the aligners are removable, you can continue to eat your favorite foods and be able to brush and floss normally to keep your teeth and gums healthy.
Invisalign is able to treat a broad range of cases: crowded or crooked teeth, diastemas or spaces and gaps, overbite, and deep bite. Most importantly, Invisalign helps treat gum disease and TMJ dysfunction by aligning teeth into their ideal position, therefore eliminating "food traps" that cause bleeding and inflammation.
Periodontal Disease and Hygienic Benefits
The most common misconception about Invisalign is that it is a cosmetic procedure, and it will not be covered by dental insurance. That is far from the truth. The primary benefit of Invisalign treatment is improved gum health. When teeth are crowded and are overlapping one another, it is extremely difficult to remove the food particles and bacteria that get lodged in the nooks and crannies. Plaque with harmful bacteria accumulates and attaches to the tooth surface down to the bottom of the pocket. Over time, bacteria can cause gum tissue surrounding the tooth to degrade, and if not treated, result in bone loss around the root, and the tooth to become loose. Properly positioned teeth are easier to brush and floss and help gums fit more tightly around them. This leads to better periodontal health, dramatically increasing the longevity of your teeth.
Teeth that are not aligned properly can also lead to TMJ pain and "malocclusion" or irregular contact of opposing teeth in the upper and lower jaws. Back teeth that are collapsing or leaning in, hit prematurely when biting and chewing. These interferences create unnatural stress and pressure on teeth and jaws. Left untreated, teeth that are subject to constant excessive pressure over time can develop premature wear, chipping and notches at the gum line called abfractions, receding gums, TMJ or jaw pain, and bone loss.
We are able to treat many cases of TMJ or jaw pain with Invisalign therapy by aligning, derotating, and uprighting crowded or collapsed teeth. This eliminates interferences, prevents enamel/tooth wear, and allows teeth to come together naturally. Patients achieve a more comfortable and stable bite. So as you can see, straightening your teeth with Invisalign clear braces is not just to improve your teeth's appearance, but more importantly to improve their health and longevity.
Esthetics and a beautiful smile are wonderful secondary benefits of Invisalign clear aligner therapy. With a combination of teeth whitening, it can be used as an economical alternative to porcelain veneers: not only will your teeth be straight, but also the aligners can be used as bleaching trays to whiten your teeth during and after treatment! Dr. Tsangaroulis will always discuss all the options that are available and you will ultimately decide what is best for you.
Traditionally, the average time to straighten and align one's teeth is approximately 10-14 months. If you would like faster results, our practice also offers an adjunctive treatment to accelerate time with Invisalign, called AcceleDent. It is a FDA-cleared small medical device that is worn at home, over your aligners for 20 minutes daily. It produces gentle pulses that safely and gently speed up tooth movement. The lightweight, easy-to-use device has been clinically shown to accelerate Invisalign treatment by 50% (half the time).
Please schedule a complimentary consultation to see if Invisalign and AcceleDent are right for you!